Croatian Evangelistic Outreach is the overseas arm of our church Crkva Cjelovitog Evanđelja (Church of the Full Gospel). Its function is to keep our contacts and supporters informed as to our work and ministry here in Zagreb through monthly updates and monthly translated messages from Pastor Mario's CEO Pulpit Series.
Crkva Cjelovitog Evanđelja (CCE) is an active, interdenominational church established in 2001 and is a movement connected with similar churches and ministries in Croatia and abroad. The vision of the CCE movement is to carry the gospel to every place where it is not presented with integrity, to change individuals and the community through repentance and personal faith in Jesus Christ, and to present the gospel in a practical means through a variety of talents, personalities, gifts, and ministries.  Our mission and goal is to train up a central local church that will act as a hub for future church plants throughout Zagreb and Croatia. We have set in place several support ministries that help us accomplish that vision, such as our Bible school, evangelism ministry, publishing ministry, and our worship band "Bez Kompromisa" (No Compromise).
With a history dating back to the 4th century B.C., when settled by the Illyrians and later by the Celts and Greeks, Croatia has endured multiple wars, empires such as the Roman Empire, the Austro-Hungarian Empire, and the Ottoman Empire, as well as communism. National pride and sturdy resilience is what enabled Croatia to fight its way to freedom time and again. The early 1990's marked a turbulent time for Croatia. On June 25, 1991 Croatia declared her independence from Yugoslavia and brought on an attack by the Yugoslavian army. In this bloody war, lasting five long years, more than 20,000 people lost their lives not only through combat but in concentration camps and through ethnic cleansing. Since the Dayton agreement that finally ended the war, Croatia has fought to repair the damage that not only destroyed cities but also decimated the economy. At the turn of the new millennium Croatia's economy began to take a slow upward turn as tourism was on the rise, yet unemployment and political resistance continues to hold the country economically hostage.
In a country with a landmass the size of West Virginia and a population of 4.5 million it is surprising to learn that approximately only 100 protestant churches exist with approximately 6,000 newborn Christians. Many villages and towns entirely lack gospel preaching churches and to this day remain void of the true gospel of Jesus Christ. This is why we regularly plan evangelistic outreach events. Because Croatia is a Roman Catholic nation, historically she has been resistant to the gospel of Jesus Christ, perceiving it to be a battle of Protestantism versus Catholicism or even a further invasion of Western culture.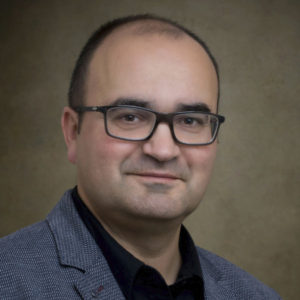 Mario Ducic was born in Zagreb in 1973 to a Catholic Family. During the war, in 1991, he began his theological studies at Lutheran Theological Seminary – Matija Vlačić in Zagreb, Croatia. During his second year, a Christian befriended him and began witnessing to him. At this time his grandmother became ill and so he asked his friends to pray for her. God answered this prayer and she was healed of her severe pain. The answered prayer softened his heart and that same night as he read the book of John he said to himself, "This is truth I find myself in every word and this is what I need." Mario was saved that very night!
After finishing his second year Mario decided to continue a third year of study at the Evangelical Theological Seminary in Osijek, Croatia. While studying in Osijek he actively volunteered to work with a refugee camp in Gasinci through the humanitarian aid society "Agape". After his third year he received a scholarship to study abroad. These doors opened to him so miraculously that he temporarily left his studies at Evangelical Theological Seminary and completed a two-year course in Practical Theology in one year at Christ For The Nations Institute in Dallas, TX. After completing his studies in America, he returned to Osijek in 1996 to complete his theological studies, in the field of Christian counseling, on the theme of "The Sexual Abuse of Children". In 2007 he finished his post-graduate theological studies at the Evangelical Theological Seminary in Osijek, Croatia, under the title, "Effective Christian Leadership – Understanding and Implementing Visionary and Foundational Characteristics of Leadership." Mario has gone on to finish his Doctoral studies in Practical Theology with special emphasis on "Leadership" through the Wagner Leadership Institute in Phoenix, AZ. Finally, in 2016 he received his D.Min. at the Mihael Starin Protestant Theological Seminary with a thesis of "Biblical Understanding and Pastoral Approach to Financial Management".
Mario became pastor and president of Crkva cjelovitog evandelja in the fall of 2001. God has given him a vision to work and serve both in Zagreb and the entire country of Croatia. He has a passion to see the church arise with a new passion for the Lord and for true revival come to the church; to see her awaken to its call to reap the vast harvest of souls yet unreached. As the pastor, Mario has formed many ministries in the church and has a vision to start organizations that deal with practical issues as a means of building the influence of the church in society. He has also engaged in national events with other protestant churches and for some years led the annual "Croatia for Jesus" festival, "JarunFest" as well as "Days of Reformation". Since 2003 he has actively written various articles and published as well as made public monthly sermons he preaches at Crkva cjelovitog evandelja.
In 2008 he initiated and became President of the Croatian Christian Coalition. The purpose of this coalition was to stimulate and realize solidarity, transparency, quality subsidies and collaboration along with realization of community influence among the members in the political realm through active promotion of Christian principles in churches of the reformation heritage in the Republic of Croatia. Because of the great need for work in social programs as well as with christian business owners, in 2020 Pastor Mario Dučić initiated the founding of the organization "Philos" whose goal is to create various projects to help those from the social margins of society and to also encourage and be a support to Christian business owners.
In 2019 Mario was asked by Operation Christmas Child to be their national leader for Croatia. He has put together a team that hosts training sessions, aids in organizing evangelistic events for children throughout Croatia at which the shoe box packages are distributed, and verifies that proper follow up is taking place in churches after these events. Mario was a member of the central headquarters committee and council for supporting human rights, civil society, and the justice system for the main political party. He is also the author of two books Effective Christian Leadership and Your Daily Money which have been endorsed by several Croatian Evangelical Leaders as well as the former Croatian President, Mr. Ivo Josipovic.
Mario`s wife, Bonnie Ducic, is also a graduate of Christ for the Nations Institute, Dallas TX and daily assists Mario in ministry. Having felt a call to the mission field from a very young age she sought every avenue to learn about mission work. In the early 1990` Bonnie spent six months in Moscow, Russia working at the Advanced Training Institute – Moscow Center. Upon graduating from Christ for the Nations Institute in December of 1998, she moved to Vinkovci, Croatia where she assisted a local church by leading worship and working with their young people. In 2001 she married Mario Ducic. Bonnie is worship leader and director of the band Bez Kompromisa, which has recorded two live worship CDs "Ustani Gospode" (Arise, O Lord) and "Pred Svetim Kraljem" (Before the Holy King) and their newest studio album, "Enter into Your Victory",  released just this year in English and available on iTunes.
Bonnie and Mario have a strong vision for reaching Zagreb and the nation of Croatia by training up leaders and missionaries to reach the unreached regions of Croatia. They are accomplishing this vision through the CCE movement, which is not only a church but also an interdenominational movement designed to multiply itself throughout Croatia. Together they have four children – Filip, Luka, Divna and Vjera.